We've just received our floor plan for Open Book Comics Fest! Here is the map (click to enlarge):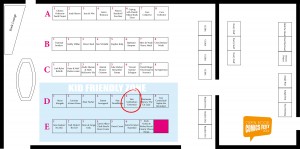 As you can see, we are in the "Kid Friendly Zone" – we didn't know that was a thing, but whatever works! 😀 Come say hi!
We're still busy with the new page. Just finished up doing stock take and a bunch of admin stuff. All we're waiting for now is our new stock – The Great Wave & Keep Calm and Let Me Cook posters, our button badges, bookmarks, and in a last minute burst of inspiration – fridge magnets!
We decided to show you the bookmarks and badges. We're pretty happy with the designs and hope that you will be, too. The fridge magnets are 4 x 4 cm versions of the "Keep Calm and Let Me Cook" posters.
Ladies and gents, are your bodies ready for….
THE PARTY STARTER?
These badges are 2.5cm in diameter and will be available for R10 each.
Then, the bookmarks: A slimmer version of our pop-up banner (which, sadly, we are not allowed to put up at this year's Comics Fest due to space restrictions):
Those will be R5 each, or free if you buy 3 or more comics.
We're getting pretty excited about Saturday… See you there! 😀
<3
Danelle & Ben