Phew, AT LAST, right? Yup, it was about time! Let's get right to it, shall we?
Open Book Comics Fest 2014 was loads of fun. We were in the same venue as 2013 – the District 6 Homecoming Centre, adjacent to the Fugard Theatre in town. The layout had changed a little from the previous year, fitting in more participants, and also adding a "kid friendly zone." Apparently there were some well-intentioned parents last year who brought their kids to come look at comics, only to be confronted by the more graphic side of graphic novels. I suppose there may have been some complaints! Oops. Either way, we were stationed in the "kid friendly zone" and made some sales to people buying things for their kids, which means they are getting exposed to local comics and also to reading, which is always good!
Last year, we had tote bags to draw on. This year, there were caps. We have to admit that we preferred the tote bags. They were more buyer friendly, and were easier to draw on. Not everyone enjoys wearing caps, and these ones were slightly old fashioned, being cheapish, small, soft baseball types as opposed to the structured snapbacks which are currently popular. We haven't found out how the sales compared to the tote bags yet, but we suspect it may have been slightly lower. Either way, there were some amazing designs, and hopefully they will all find homes. Proceeds will be going to fund next year's Open Book Comics Fest.
So yea, while we covered our most recent prints and such, we didn't really make a profit. We still had a lot of fun, anyway! And neither of us got the dreaded con crud, much to our relief.
The general consensus among all the artists/participants is that the traffic was a bit slower than last year, with most people breaking even-ish. This was partly due to lack of marketing, but also because the door connecting the Fugard and the Homecoming Centre was closed. Normally, people attending shows at the theatre would wander in and browse through the comics, and buy things. This year, due to some admin issues, we didn't have that, which is a huge pity. The organisers have promised to look into the matter so that we don't have the same problem next year.
The talent on display at this year's OBCF was pretty insane. We're really excited about the fast growth the local comics scene is showing. Great things are ahead! 😀
Here are some more pictures for your viewing pleasure: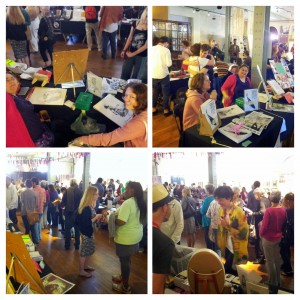 We do have lots of buttons, fridge magnets and bookmarks left over. Pricing/shipping info can be found here, and here. Our comics stocks are running a bit low, but we still have some left, including sketched editions, which you can order directly from us, or purchase from Readers Den, Outer Limits, Clarke's Books, or The Unseen Shoppe.
Thanks to everyone who came along, said hi, brought us food/water, and of course those who bought prints and comics! You guys are the best.
<3
Ben & Danelle