Cottonstar will be at FanCon 2017! We're really excited for it! FanCon 2017 runs from the 29th of April to the 1st of May. It's a long weekend, so you don't have to take the Monday off to attend. Tickets are available from Computicket. They're R120 for a single day pass, and R240 for a three day/weekend pass. If you want a weekend pass you'll have to pre-order, as they are limited in number and won't be sold at the doors. Children 12 and under get in free when accompanied by an adult.
International guests this year include Laura Braga, Ron Marz, Eric Powell, John Layman, Calssara, Somto Ajuluchukwu, Mike Kayode and Matt Hawkins. Local guests include Lauren Beukes, Dale Halvorssen, Loyiso Mkize, Warren Louw, Sean Izaakse and Kinpatsu Cosplay. Jason Masters was due to attend, but had to cancel due to work engagements.
The program is busier than it's ever been before, with a lot of talks, workshops and presentations. You can check out the full line-up of events here!
You can find us at booth A20, sitting next to our buddy Deon de Lange. Download the full version of the floorplan here.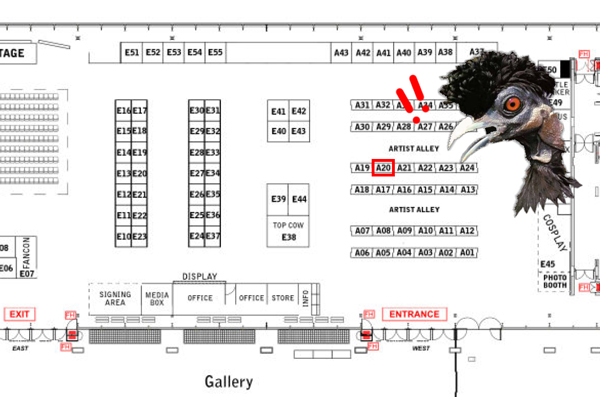 SHIRTS! PATCHES! MINI PRINTS!
We are really excited about to introduce… Shirts and patches!! Yes, for the first time ever we will have shirts available, in sizes S to XXL. We will have charcoal unisex tees as well as black ladies vests with a classy, screenprinted design. We also have a very limited supply of kiddies sizes, which will be white with a coloured variant of the adult print! You can see a mockup below. We uploaded the designs to Redbubble and picked approximate matches for what we've ordered, just to give you a basic idea of what to expect. The patches are 7cm in diameter. Click the image to enlarge it! (The thumbnail embedding options for WordPress are a bit meh)
Shirts will be R280 each, and if we run out, we can take back orders. The official FanCon shirts come from the same shirt supplier that we use, so you can go and check their unisex shirts out for sizing. Patches will be available for R60 each.
Then, even more excitement: Ben has been working on a short 25 page silent comic called Trinetta Sky. He started working on it during Inktober 2016, doing panels during his lunch hours at work. The project has finally seen completion and will be making its debut at FanCon. Here is a sneak peek of the proof: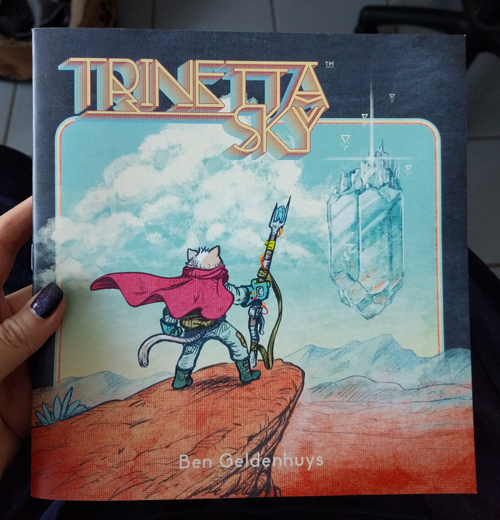 Trinetta Sky comics will be R80 each.
We will also be selling sticker and button packs, our regular A3 prints, as well as experimenting with A5 mini prints. We made limited numbers of the latter and are keen to see how they do.
Important note regarding comics: As of this event, we will no longer be selling comics separately. We made a self-publishing-rookie mistake. We printed chapters 2-5 without thinking that people who don't own Chapter 1, probably won't want to buy the other chapters. So what ended up happening is that we've been selling odd numbers of all the chapters, leaving us almost sold out of chapters 2-4, and an excess of chapter 5. This means that once the small amount of Chapter 1 we have left is sold out, the rest of the comics become dead stock, as we won't be reprinting any of the comics, in favour of printing volume 1. This is why we have made up packs of chapters 1-5 and will be selling them as bundles at FanCon. There will be a bundle discount, and there is still a limited number of loose Chapter 1 available for those who want to check out the comic but don't want to commit to buying all five chapters. If you have all the comics except Chapters 2, 3 and 5, it's your lucky day, because we have some of those left too, and will sell them at a discount.
We hope to see you there!
<3
Danelle & Ben
PS, in case you haven't read it, here is an update on our current situation in the form of a public Patreon post.
---